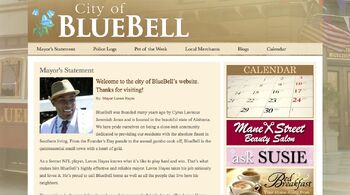 The Bluebell website is a website devoted to the town of Bluebell, Alabama. The introductory post, Welcome to the City of Bluebell, written by Mayor Lavon Hayes, was the first post on the website, and was posted as follows:
"BlueBell was founded many years ago by Cyrus Lavinius Jeremiah Jones and is located in the beautiful state of Alabama. We here pride ourselves on being a close-knit community dedicated to providing our residents with the absolute finest in Southern living. From the Founder's Day Parade to the annual Gumbo Cook-Off of BlueBell is the quintessential small town with a heart of gold.
As a former NFL player, Lavon Hayes knows what it's like to play hard and win. That's what makes him BlueBell's highly effective and reliable mayor. Lavon Hayes takes his job seriously and loves it. He's proud to call BlueBell home as well as all the people that live here his neighbors.
Please take a look around the site and see what our wonderful city has to offer. Lavon Hayes assures you, you won't be disappointed.
Sincerely, Lavon Hayes"
Blogs
[
]
Featured Local Merchants
[
]
Pet of the Week
[
]
2011
[
]
2012
[
]