'Heart of Dixie' Profile: Lavon Hayes
"
Lavon Hayes has a 99.8% approval rating. Only hold-out I got is the Widow Lowman, who for reasons I don't like thinking about, wants me to legalize prostitution.
"

Lavon Hayes is currently Mayor of Bluebell, Alabama and Co-Chair of the Tourism Council (as mentioned in Parades and Pariahs). (You can read his welcome statement on Bluebell's website.)
He lives on the Mayor's Plantation, where he keeps his pet alligator Burt Reynolds. His close neighbors and frequent visitors include Wade Kinsella, who resides in the gatehouse, and Zoe Hart, who recently moved into the carriage house- both located on the mayor's estate grounds. You can also view his twitter timeline, here. He is married to Lemon Breeland.
Lavon is a former linebacker for the Crimson Tide at the University of Alabama, and played in the NFL for ten years. With his team, Lavon won two Super Bowls and selected to four Pro Bowls, not being chosen in 2006. He seemingly played for the Carolina Panthers at one point. In one episode (Homecoming & Coming Home) he is seen in a Carolina Panthers uniform. (Pilot)
Currently, he's Mayor of Bluebell, Alabama and Co-Chair of the Tourism Council (as mentioned in Parades and Pariahs). (You can read his welcome statement on Bluebell's website .)
Lavon is the son of Caroline and Ernie Hayes. In season 3 you meet Lavon's cousin Lynly. George Tucker and Lynly have a one night stand in the Season 3 premier " (Who Says You Can't Go Home"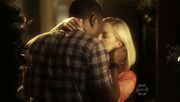 Lavon and Lemon relationship began during the holiday season of 2010, when Lavon proved to be Lemon's only support at a time when she was really struggling with family issues. It was Lavon that retrieved Lemon's necklace, a gift from her mother that she had thrown into a river, and returned it to her with the advice "no matter how angry you are, you should never throw away something that was given out of love." In the end, they get married. (Hairdos & Holidays). Read more about Lemon and Lavon here.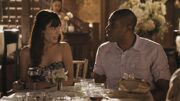 Lavon, after recovering from his nervousness, finally managed to get up the courage to ask Dido\ out- however, the two only had one unfortunate date at Fannie's where Lavon tossed around the ideas of being soul mates, and a double wedding, before Didi made it clear she had little interest in seeing Lavon again. Later, when Lavon attempted to befriend Didi again, she responded with "Friends? How can I be your friend when I know you want to marry me?" (Hell's Belles). Her belief that Lavon was genuinely in love with her, and meant every word he'd said at Fancier's led to a great deal of difficulty for Lavon- every woman in Bluebell refused to date him either because they were friends with Didi, or because they had heard he was in love with her. Ultimately, Lavon approached Didi to apologize, and confessed that his behavior on their first date was a result of having too much to drink and being slightly overzealous at trying to get over someone, and asked her to set things right with the women in town so he could date again. To this, didi responded that if Lavon "wasn't all Mooney Tunes" she wanted to go out with him herself (Hell's Belles). Read more about Lavon and Midi here.
Lavon and Ruby dated in high school but after leaving for college lost contact, years later they became involved again during Bluebells Mayoral race. Lavon eventually proposes to Ruby but she turns him down to peruse a job in Dallas. Later she returns to Bluebell to win Lavon back but unfortunately for her Lavon has moved on and developed feelings for Annabeth Nass.
Lavon is currently in a relationship with Annabeth Nass, who he chose to be with over Ruby and despite Lemons objections. Lemon seems to have come to terms with the relationship of Lavon and her best friend as of the episode ( On The Road Again ). Read more about AnnaBeth and Lavon Here
Community content is available under
CC-BY-SA
unless otherwise noted.