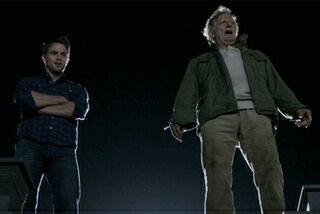 This is the relationship between Wade Kinsella and 'Crazy Earl' Kinsella .
Background
Edit
Judging from our little knowledge of Earl's wife, we can assume that Earl was on his own with his two boys for a large part of their lives. (Possibly her death contributed to Earl's drunken tendencies, which heavily affected his relationship with both of his boys, Wade and Jesse .)
Earl and Wade have a very strained relationship, and have for some time. Wade has spent a great deal of time looking out for his father, who has little money and a tendency to drink far too much. Wade notes a time when he was very young and Todd Gainey Jr. and his brothers made fun of Earl, suggesting his protectivity toward his father may have begun at a very young age (The Crush & The Crossbow).
Season One
Edit
Earl Kinsella's first appearance is after he falls asleep, drunk, underneath Wade Kinsella 's boat trailer, and Wade unknowingly backs over him, and he brings his father to Dr. Zoe Hart at Bluebell's medical practice. However, Wade refers to his father simply as 'Crazy Earl' and makes no indication that Earl is a relative. Zoe is irritated by Wade's casual behavior toward Earl, and later chastises him for it at the Rammer Jammer, to which Wade has no response. Later, however, as Earl climbs the roof of the hardware store and threatens to jump and the town gathers to watch, his identity as Wade's father is revealed as Wade follows him onto the roof and sings for him to get him down safely. Lavon Hayes reveals this is a monthly occurence, and that each month, without fail, Wade climbs up after his father and sings him down from the roof.
Lavon Hayes: Every month, Earl cashes a government check and heads straight for the liquor store- and every month, his son sings him down.
(Faith & Infidelity)
Community content is available under
CC-BY-SA
unless otherwise noted.