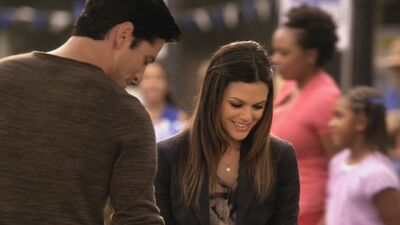 The relationship between Zoe Hart and Dr. Judson Lyons.
Season One
Edit
A handsome veterinarian from Mobile, Alabama, Dr. Judson Lyons asked Zoe out on a date after being impressed by the subcuticular sutures she performed on Bo the pig in his absence. After Zoe's excitement regarding their impending date turned to sheer panic, Zoe called and canceled at the very last minute, leaving Judson sitting alone at Fancie's and the whole town of Bluebell abuzz about the scandal.
Zoe later apologized to Judson when she ran into him at the Rammer Jammer , and Judson agreed to give her another chance, and the two visited Bluebell 's bakery together as their first date. However, the relationship came to an abrupt halt when Judson ended up sleeping with Zoe 's best friend from New York, Gigi Godfrey, at Lavon's annual pre-Homecoming Game party held at the Mayor's Plantation .
After some time had passed, Zoe called Judson in reference to a veterinary situation after seeing a patient, and the two began speaking again. Judson even sent Zoe flowers, with a clear desire to rekindle their not-quite relationship- though Zoe admitted she liked him, she was reluctant to resume anything. Ultimately, to protect a friend she had provided with a key to her home from Lemon 's wrath during an incident at the Rammer Jammer , Zoe pretended the key had been intended for Judson, and publicly kissed him.
After the kiss, the pair begins dating. At first, Zoe feels it is too soon in the relationship to attend the annual Sweetie Pie Dance with Judson, so instead plans on a sleepover with Rose Hattenbarger. However, she changes her mind (mostly to prove a point to neighbor Wade Kinsella) and she and Judson do in fact attend the dance together. However, Judson realizes that Zoe is more into her "war" with Wade than in spending time with him, and he ends things (Sweetie Pies & Sweaty Palms).
Though Zoe is angry with Wade for some time, blaming him for her break-up with Judson, she later admits to him that she did not believe he was her true love (Snowflakes & Soulmates).
Character Quotes
Edit
Judson Lyons: "Obviously I'm a part of something I don't understand, but I just wanna say I don't care. Because that kiss was..."
(Mistress & Misunderstandings)
---
Judson Lyons: "You were more excited about your war with Wade tonight than you were about your night with me. That not tell you everything you need to know?"
(Sweetie Pies & Sweaty Palms)
---
Lavon Hayes: [about Wade Kinsella ] "When are you all going to make up?"

Zoe Hart: "When that spineless infant apologizes for breaking up me and Judson."
(Snowflakes & Soulmates)
---
Zoe Hart: "For the record, Judson was not my true love."
(Snowflakes & Soulmates)
Community content is available under
CC-BY-SA
unless otherwise noted.